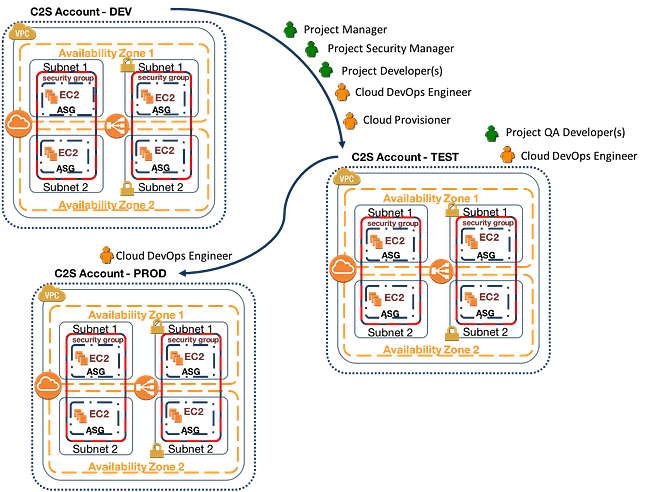 Designing and implementing a cloud architecture and data strategy is challenging. There are many factors to consider when determining the approach to move off premises or to design a hybrid, public, or private cloud environment. For the image above we work our customers towards an automated environment to provide a "lights out" model.  This allows our customers to focus more on mission and less on infrastructure.  We want as few users to access the PROD environment, and script out the environments so they can be developed once but deployed many times. C2SCG has helped many organization save time and costs by automating their environments.
Architecture Services Include:
Infrastructure Strategy (All in vs. Hybrid) across CSPs and Fabrics
Automation of Environments across CSPs and Fabrics
Software Products/Tools: Prototypes, Evaluations, and Implementations
Applications and Websites: Development, Implementation, Automation
Configuration Management and Best Practices including: Automation, KPIs, Tools, Cost Management
Development/Implementation of Applications
Cloud Agnostic Strategies and Implementation
Automation of Roles and Services
Proof of concept for provisioning
Data Services Include:
Data Strategy across CSPs and Fabrics
Data Lakes Development
Data Tagging
Data Analysis and Forecasting
Building a specific and new data system in the virtual cloud
Big data, informatics, and analytics projects
Prototypes/Hackathons/Tool Development
Training labs
Disaster recovery
Data archiving
Data Analytic Models AI/ML
"If strategized and implemented correctly, data on cloud can give businesses the much-needed scalability, enterprise flexibility and trustworthy data powered insights for smarter and faster outcomes" – Jayant Swany, Chief Data Architect – Data Business Group
With our experience in developing and deploying cloud environments to meet various requirements,  implementing the correct cloud architecture and data strategy for your company will be a top priority of our team.