Puppet Enterprise is an alternative configuration management tool in comparison to others such as Chef, Ansible, and Salt. As of Mid-November AWS OpsWorks will build out and maintain your own Puppet masters while working with your custom Puppet manifests. AWS OpsWorks will take care of operational tasks such as installation, upgrades, patching, and backups. It simplifies the node registration process and offers a starter kit for bootstrapping the nodes would like added to to the Puppet Master. You will have access to the Puppet console for ease of management to maintain your systems and/or infrastructure.
You are able to automatically register new nodes through the API. This tool is powerful in letting you define a consistent baseline and can seamlessly tie into Auto Scaling. Puppet has a vast community with many open source modules ready to be shared and utilized. The puppet master can be locked down for inbound and outbound traffic and even further by using IAM. It supports Linux and Windows server nodes running on either Amazon EC2 and/or bare metal.
You are able to specify the region and instance size of your Puppet Master when going through the steps in OpsWorks. It will then be provisioned with the newest version of Amazon Linux and the most current version of Puppet Enterprise. See below for what this looks like and how much nodes are supported for various instance types offered.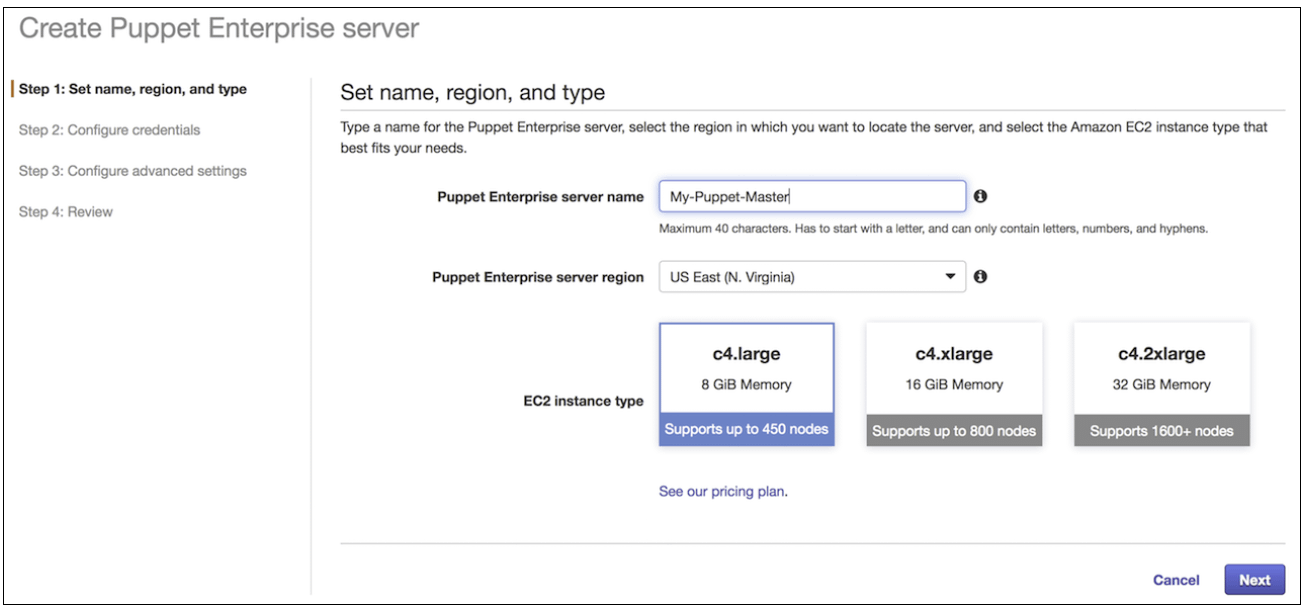 Open Source Puppet Modules can be found here:
Pricing:
https://aws.amazon.com/opsworks/puppetenterprise/pricing/
Additional information can be found here:
https://aws.amazon.com/opsworks/puppetenterprise/