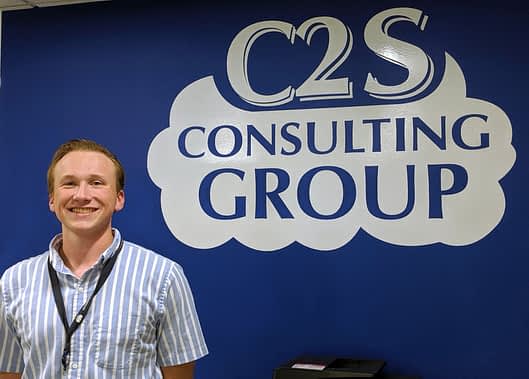 As the  summer winds down, it's time to say farewell to our summer intern! We have had such a wonderful summer with Colin Reddig of Virginia Tech in our office and we appreciate all of the hard work that he contributed.
Over the course of twelve weeks, Colin gained real-world work experience by working closely with C2SCG's Cloud SME managers. With a steep learning curve that didn't faze him, Colin learned to program in Ruby, built AWS AMIs, used S3, EC2, and CloudFormation in the AWS dashboard, and made lasting contributions to our premier cloud dashboard tool, CloudPeel. The day to day situations they engaged in were real and gave them a working opportunity to engage in concept-to-production experience as well as problem-solving and crisis management. On Wednesday, Colin had the opportunity to present his new Compliance module during C2SCG's weekly lunch & learn. Employees were impressed by Colin's dedication and quality of work as it continuously improved with each passing week.
We are hopeful that the experience that Colin gained while at C2SCG will be valuable in his final year of college as well as in his professional endeavors to come.