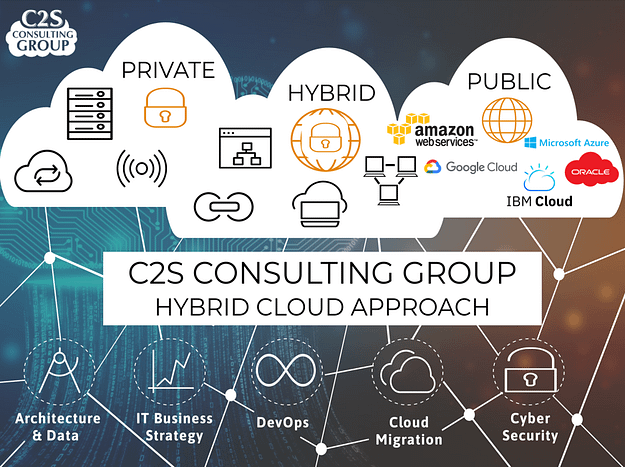 The Cloud is not just for the IT department. 10-years ago, companies such as IBM, Oracle, HP, and Motorola all led the Fortune 500. Today, the companies that lead the industry are those that can move quickly, fail fast, and leverage cloud's advantages regarding cost savings and innovation. Amazon, Google, Apple, and Facebook have the ability to leverage Cloud technologies to change how their entire company does business. Companies who migrate their applications and data centers to the cloud are doing more than just changing how they do IT. Cloud Migration influences and changes innovation, processes, policies, organizations, finances, security, and almost every other department.
"Rapid Technological change is the greatest threat facing big business. Today's CEOs clearly recognize that new technologies are going to radically change the way they do business. And they need to figure it out before their competitors do." – Fortune 500 Magazine.
C2S Consulting Group provides Cloud Consulting and Professional Services to help government and commercial entities move into the AWS, Microsoft Azure, and Google Cloud environments. We provide several services to help our customers save time and money to innovate the way they do business. We have a proven methodology and cloud expertise to guide you through designing a migration plan that considers strategy, architecture, application migration, networking, security, governance, billing and training.
Supporting You at Every Stage From planning to production, we provide all the services and support required to move your enterprise into the cloud, including:
Cloud Assessment – understanding your existing infrastructure and application environments and providing technical and financial assessments of various cloud-based solutions.
Cloud Architecture Development – designing public, private, and hybrid cloud solutions with operational support systems.
Cloud Proof of Concepts – rapidly developing and deploying proof-of-concept clouds to validate and test cloud implementations.
Cloud Migration – packaging and migrating both proprietary and commercial off-the-shelf applications to the cloud.
Cloud Operations and Optimization – managing, monitoring, and production operations of public, private, and hybrid cloud infrastructure including all associated applications.
Cloud Migration Strategy – C2S Consulting Group will provide services that are specific to the needs of your company, making sure the cloud migration strategy will be efficient and reliable. Strategies include:  
Rehosting – Cutting your costs using tools such as AWS VM Import/Export.
Re-platforming – Migrating to a different service platform will save time managing database instances.
Repurchasing – Adjusting and moving to a differentiated product if necessary.
Refactoring/Re-architecting –Taking a previously used application and analyzing the flaws, architecting it into a newly improved application.
Retire –Removing any unnecessary applications determined to be useless will decrease costs.
Retain – Improving applications that are fully functional and efficient.
Trust Our Cloud Experience Our certified engineers, architects, and developers support today's leading Cloud and related technologies, specializing in Amazon Web Services and other growing cloud platforms.